Animal Control & Licensing
Animal Control
Our shelter offers animal control services to New Albany and Floyd County residents. If you have an animal control issue, please call 812-948-5355. To contact Animal Control by email, use nafcanimalcontrol@gmail.com.
Click here to view the New Albany City Ordinance: New Albany Animal Ordinance 2013
If your animal is running loose and is brought into the shelter, you will need to have proof the animal is yours, such as a clear photo of the animal or vet records; a valid photo ID, such as a driver's license or state-issued ID; and there will be fees to reclaim your animal. The sooner we can establish ownership and return your pet, the lower your fees will be. Identification tags, rabies tags, and microchips, can all speed up the process and enable your animal to be returned home as quickly as possible! ALWAYS check the shelter for a missing pet.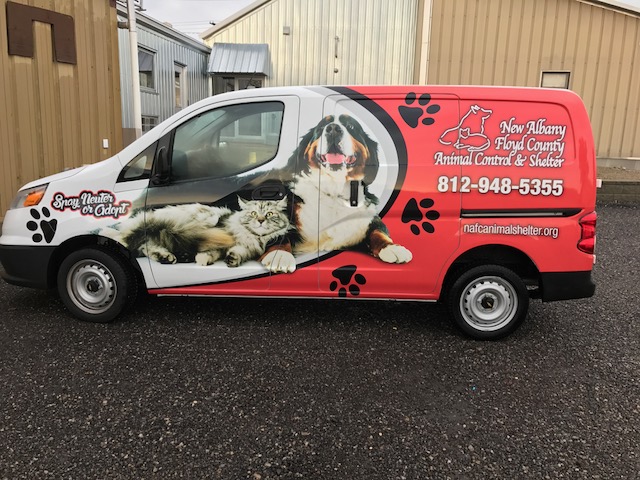 Licensing
All dogs and cats in the city of New Albany are required to be licensed with the NAFC Animal Control & Shelter. Licenses are to be renewed annually, unless your pet has a Lifetime License.  Fees vary, depending on whether your pet has been spayed or neutered.  To issue your pet a license, we will need a copy of your current rabies certificate.
To download the current License Application click here: license-application
License Fees:
1 year License Fees:
Animals that are spayed or neutered have an annual license fee of $5.00
Animals that are not spayed or neutered have an annual license fee of $35.00
Lifetime License Fees:
Animals that are spayed or neutered and microchipped can apply for a Lifetime License for $25.00
Rabies Vaccination Requirements
Under Indiana law, all dogs, cats and ferrets older than 3 months of age must be vaccinated against the rabies virus. State law allows the use of 1-year and 3-year vaccines according to approved label directions. In Indiana the rabies vaccine may only be administered by a licensed and accredited veterinarian.  To see more information about Indiana rabies laws, visit Indiana Board of Animal Health at: http://www.in.gov/boah/2337.htm
Citizen Complaint Form –